TET HOLIDAY
Tet Nguyen Dan, a renown festival in Vietnam, which is also commonly known as Tet that is the holiday of reunion and happiness. It is a holiday to mark the arrival of Spring based on the Lunar Calendar. Tet usually takes place around late January or the early February. It is a good occasion for the family members to return back home and gathering together. On this holiday, there are heaps of activities and diversity of Vietnamese cuisine is made for this special festival.
Sticky rice cake
The sticky rice cake is as known as Banh Chung for the Vietnamese name. This is a kind of savory cake that made of glutinous rice, filled with mung bean and pork and many other ingredients. Banh Chung is an iconic food for the North of Vietnam whether Banh Tet is the symbol one for the Southern. Banh Tet is also another kind of sticky rice cake, having said that it is filled with the sweet ingredients such as banana and wrapped with banana leaves while Banh Chung is wrapped with the Dong leaves. Banh Chung is associated with a legend that related to the prince Lang Lieu in the Hung King dynasty. And this cake symbolizes the Earth, therefore it is chosen to be the iconic food in Tet.
Braised Pork and egg
This is made of pork belly and Duck egg which is an indispensable dish in the Southern's meal. Due to the fact that it's made of eggs, therefore this dish present for the happiness and a fruitful year. The pork belly and eggs are cooked with coconut juice and fish sauce until it become tender. The Vietnamese usually enjoy this dish with a bowl of steaming rice and pickled which never fail to arouse their appetite.
ACTIVITIES
Giving lucky money
Receive lucky money which is a conventional activity that young generations are given an amount of money stored in a red envelope from the adults and elderly generation in their family. This activity is as known as a lucky action that the envelope they receive contain numerous wishes from the giver that pertaining to a lot of aspects from a good health to luckiness of the new year. Not only the receiver get luckiness but also the adult who hand out the money will receive best wishes from the children. Not only the young but the oldest member of a family is also given lucky money which express the desire of the younger generation for the longer life span and a good health for the old.
Out-door activities
On this special day, people usually hang out and pay a visit to a lot of places such as The Flower Street in order to seek for a number of stunning pictures with gorgeous landscape that decorated with a wide range of flowers.
Moreover, they also pay a visit to some of local temples and pagoda to pray for good luck and health in the next year and also to pay a thankfulness to their belief for what they have been through.
Watching lion dance also an ubiquitous activity. Family usually spring for a lion dance and enjoy the performance. People believe that the noise from lion dancers, drums, cherish and firework will keep the bad luck far away from them.
FLOWERS
In Viet Nam the traditional flower for Lunar New Year is up to the distinctive region. In the Northern of Viet Nam, Peach blossom which is also called as "Hoa dao" is a symbol of Tet. This is kind of flower with light pink color that symbolize for good health, prosperity, and joyfulness.
On the other hand, in the Southern part, Apricot is an popular decoration in Tet. Apricot blossom is also called as "Hoa mai", a yellow kind of flowers with five to twelve petals. According to the Southern's belief, this kind of flower with the color of yellow presented for luck, happiness and prosperity for the owner. Therefore, it is easy to spot out a huge pot of Apricot in every Southern households during Lunar New Year.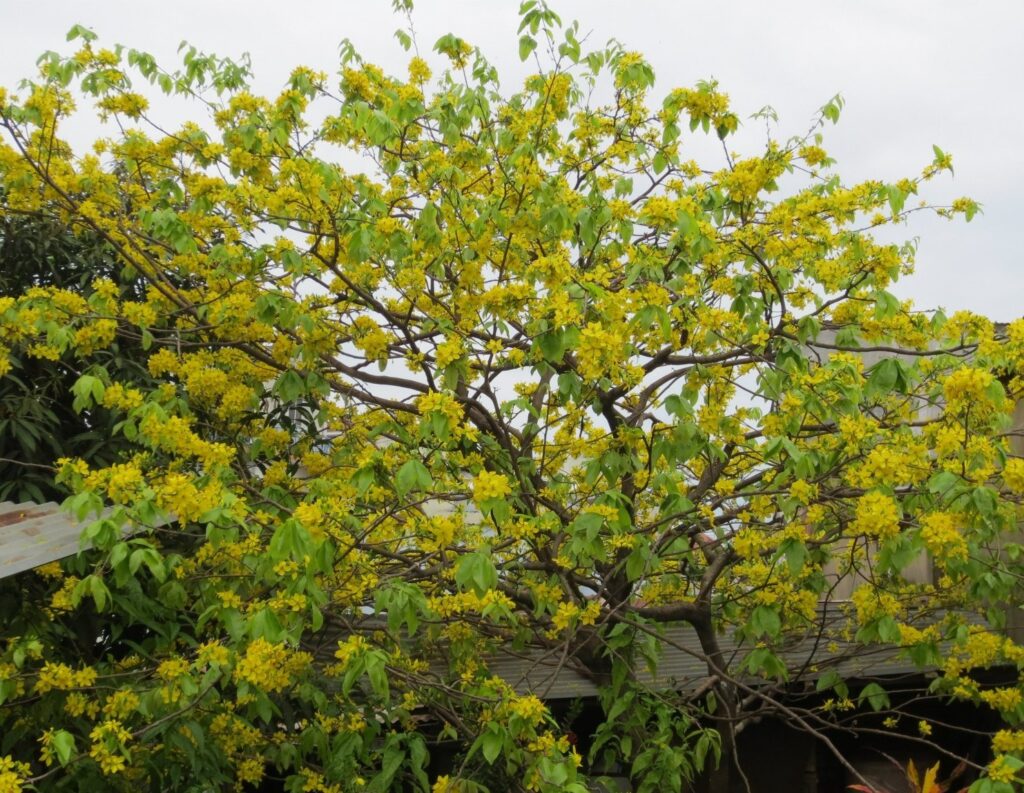 To sum up, Tet is a famous traditional holiday which is indispensable for all of the Vietnamese. It contains a lot of meaning, it's also the day that family is gathering together and sharing with each other about the year has passed.