It is a a coastal resort town located in the Binh Thuan Province of southeastern Vietnam and it is close to Phan Thiet city. Mui Ne is considered a popular tourist spot of Binh Thuan province and is also included in the national list of tourist spots in Vietnam.
The weather is hot and dry all year round here, with average temperatures around 27 degrees C. From the inner city of Phan Thiet to Mui Ne about 22 km, there are many monuments, scenic spots, places to visit scattered on the road. Mui Ne is famous for its long white sand beaches, blue sea and soaring coconut trees. Visitors can come to Mui Ne all year round, each season "sea paradise" brings a different beauty. From April to August is the most beautiful time to travel to Mui Ne, at this time the sea water is clear and cool. August to December, will be suitable for those who like windsurfing and extreme sports. Upon arrival in Mui Ne, visitors can visit the Mui Ne Fishing Village and have the opportunity to witness the operation of a fishing village of pure Vietnamese marine origin. In addition to such famous landscapes as Rome, Golden Sand Dunes, White Lake Virgin Sand Dunes, Red Hill, Tower Posanu, Mui Ne Ancient Village, Huang Flat, Fresh Seafood Market… You can try the "dish" by visiting other equally interesting places such as visit Tà Cú Mountain, Phu Quy Island, Ke Ga Lighthouse, Hong Springs, Van Thuy Tu Mansion and the 22m whale skeleton, Duc Thanh School with the carambola planted by Uncle Ho.
Mui Ne Sand: Sand Hill Bay is one of the sandy beaches that stretches for many kilometers and stretches over a certain area. It stretches from Binh Thuan province to Ninh Thuan province, but the main attractions and it is considered the most beautiful sand dunes on the way to Mui Ne, opposite Suoi Tien. The most popular sand activity is the sand slide. Visitors can use a cardboard board rented from local children. Guests can slide down the high sand hills below. The higher the slope of the arena, the more interesting it is to skateboard. Visitors must come here from 5:00 a.m. to 8:00 a.m. or 4:00 p.m onwards off because this is the best time when the sand was still fresh.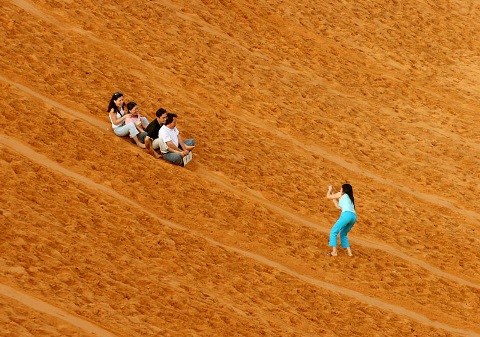 Po Sah Inu Tower is a group of Cham towers surviving relics of the ancient Champa Kingdom on She Plead Hill in Phu Hai District. This group of towers is in the style of Hoa Lai architecture, a style of ancient Champa art. Lunar month Every year at the base of the tower the festival was held as Rija Nưga, Poh Mbăng Yang… Cham ritual of praying for rain, praying for peace…Hon Rom: The name of a still intact small mountain located in Ward Mui Ne, Phan Thiet city. Due to the favorable climatic conditions, for the proper development of the plant, a kind of tubular grass about 0.50 m long must remain on this mountain; important dry season, dry grass burned, yellow. Today Rome is a "sub-regional" excursion from Mui Ne, quiet with beautiful scenery, the more than 17 km long beach is still untouched but inhabited and exploited, called Hon Rom Beach. Here there is clear blue water, gentle waves, no rocks. In the morning or in the afternoon we can sit here to watch the sunrise or sunset; campfire at night with a view of the moon or organization.