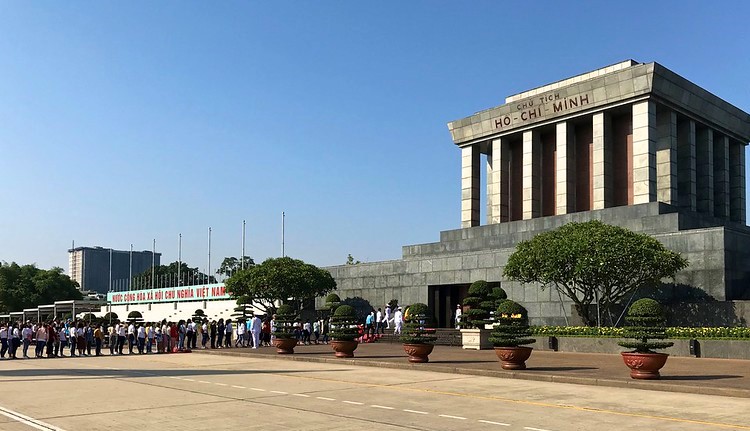 Hours of Operation: Daily except Monday and Friday; 8:0011:00. Note that the mausoleum is closed for seasonal maintenance, so check the info before you go.
After two years of construction, President Ho Chi Minh's mausoleum was officially opened on August 29, 1975. The facade of the mausoleum overlooks the historic Ba Dinh Square.
The mausoleum is divided into three layers with a total height of 21.6 meters The lowest level forms a terraced level used exclusively for presiding over large gatherings in the grassy Ba Dinh Square. The second tier is the heart of the mausoleum, where the President's remains are kept in a chamber accessed through a series of passageways and marble staircases. The apex of the mausoleum is the roof, which resembles three terraced steps. The facade of the upper part of
bears an inscription "President Ho Chi Minh" in dark purple gemstone.The mausoleum is the place where the remains of President Ho Chi Minh are kept, the great patriot bestowed the title of World Cultural Activist and National Hero. The concession was made on the occasion of the 100th birthday of President Ho Chi Minh (1890-1990).
The mausoleum project was the result of the artistic work of Vietnamese and former Soviet scientists out of respect for President Ho Chi Minh.